The National Association of Home Builders recently passed out its Best in American Living Awards. The winning projects were recognized for innovative design, so they tend to highlight design trends you'll see in new homes in coming years.
BALA Chairman Stephen C. Moore, senior partner – marketing with BSB Design Inc. in Des Moines, Iowa saw an overall simplification in the designs with cleaner lines, more natural elements and an emphasis on relaxation.
Here are some of the top trends from the winning projects:
White, White, White Kitchens
Many of the winning kitchens had white cabinets, white counter tops, white back splashes and were finished with, you guessed it, white trim. Industrial textures are being introduced, but they are muted or white.
You can incorporate this look into your kitchen without committing to a full remodel by painting your cabinets and retiling the backsplash.
Doubled Island Kitchens
Back-to-back islands and side-by-side islands are showing up in all styles of homes—one island for cooking and preparing food, and the other for serving food and dining. Sometimes the second island takes the place of a more formal dining room table.
Not ready to get rid of your dining room table? You could enlarge kitchen countertops where you already have seating.
Centered Bathtubs
Bathrooms are continuing to becoming more spa-like. As a result, large, well-designed tubs are becoming the center of attention. They are being pulled away from the wall and treated like sculptures.
If you've got the bathroom floor space, this would be a fun update. Be sure to add radiant heat if you replace the floor tile.
Indoor-Outdoor Living
Where weather permits, indoor-outdoor transitional spaces are showing up by utilizing removable walls, screens and foldable walls.
In urban homes, using extra space on the roof can give you a great view.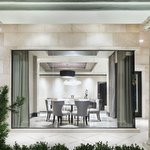 Outdoor kitchens are particularly in demand in luxury neighborhoods. Let me know if you need help finding a hardscaping specialist who can transform your yard into a relaxing entertainment space.
Natural Elements Mixed With Contemporary Materials
A softer side of modern design is evolving as contemporary and industrial materials are beginning to mix with natural materials.
Wood, steel and glass are a popular combination, allowing the best from both worlds. Modern textures are being combined with old-world or classical elements.
If you'd like this look but don't have the know-how to pull it off, contact me. I can refer you to a professional designer who can help.
Increased Quality Of Details
Across the board, the details, such as how a hand rail meets a stair, are getting better.
Light, classic details that are clean and well thought-out are amplified when pulling together major pieces of a simple, clean-lined space.
When you remodel, pay attention to decorative elements.
Get Away Rooms
Whether it is a room with a view or a game room, creating spaces that allow you to get away from everyday life are becoming popular. These spaces are designed to encourage relaxation, family-time or allow one to practice their hobbies.
When adding new rooms, or repurposing rooms as kids leave the nest, consider what you like to spend time doing. You'll get lots of use from the space by setting it up as a place where you can enjoy a hobby or pastime.
Wine Rooms And Bars
Wine is finding its home everywhere and anywhere. Wine displays under the stairs are beautifully filling spaces that could otherwise go to waste.
Full rooms dedicated to wine or liquors are no longer just for the avid collector. Wet-bar nooks are adding to the overall encouragement of relaxing and enjoying time at home.
You'd be amazed at the wonderful ways today's wine-room designers can make use of existing space. Adding a dining table near a wine cellar or wine closet creates an instant wine room.
Image source: Jauregui Architecture Interiors Construction